Riembeslag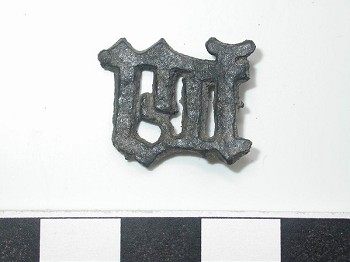 downloadriembeslag
Beschrijving
Lettercombinatie, zwart (lood/tinlegering). Letercombinatie van waarschijnlijk een P en een D. Achterkant is plat en heeft een naad. 1 pinsbevestiging. Pin is vierkant. Lengte pin is 0,3 cm. Dikte pin is 0,25 cm.
Inventarisnummer
i 2006/4.852
Afdeling
Middeleeuwen
Objectnaam
riembeslag
Materiaal
metaal ; lood/tinlegering
Afmetingen
H: 1,7 cm; B: 2,1 cm; D: 0,2 cm
Periode
eind 14e eeuw 1350-1400
Vindplaats
Nederland, Zeeland, Hulst, Verdronken Land
Literatuur
A. Willemsen, met bijdragen van J. Luijendijk en M. van Werven, Late medieval bling-bling, a collection of decorated leather and metalbase mounts in the National Museum of Antiquities in Leiden, In: H. Clevis (red.), Medieval material culture, Studies in honour of Jan Thijssen, Zwolle 2009, p. 67-93.
---
---
Error parsing XSLT file: \xslt\LikeTweet.xslt Error parsing XSLT file: \xslt\Disqus.xslt