Kekoe; wade; kruisbanden; kralennet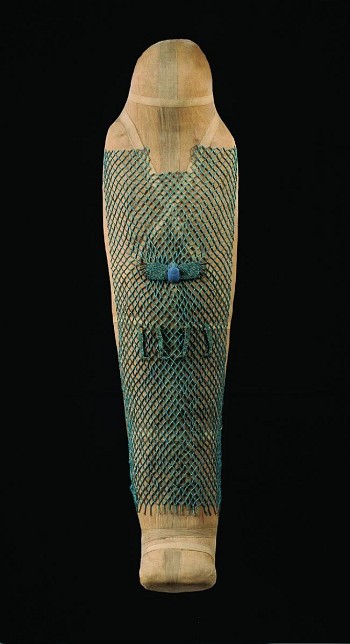 downloadmummie; vrouw
Beschrijving
Kekoe ; wade ; kruisbanden ; kralennet
Mummy of an adult, wrapped in bandages of rather coarse linen which have been applied in spiral fashion. They are fairly wide, torn from a larger cloth, and pale in colour. The bandages are covered in a shroud of reddish linen (medium-fine warp-faced tabby weave, about 12 x 24 threads/cm2), which shows some water stains over the head and feet and has damaged patches at the feet and sides. The shroud leaves a wide gap along the centre of the back, through which the underlying bandages can be seen. It is held in place by a number of linen straps, 2.0-2.8 cm wide with the edges folded double (about 9 x 22 threads/cm2): a broad band (w. 5.0 cm) along the frontal axis, transverse straps around the head, the hips, the knees, the ankles (double), and the insteps, and a crossed stola over the torso. The transverse straps show knots at the back, the strap over the insteps has a knot under the soles of the feet.
On top of the shroud lies a bead net of 105 x 43.5 cm. This consists of cylinder beads of bright blue and dark blue faience (length 1.1-1.5 cm), forming rhombic cells with blue barrel beads at the crossings. The edges of the net are not reinforced in any way, the lower edge has fringes of two cylinders and one barrel bead each. The upper edge of the net forms two rectangular protrusions on the shoulders and a square recess in the centre. The following elements are fixed on top of the net:
- a blue frit scarab (5.8 x 3.7 cm) with detailed back and plain undersurface, provided with wings (total width 19 cm) in mosaic work of bright blue disc beads. The tips of the wings have a feather pattern of alternating strips of black and dark blue, with lines of yellow beads in between;
- four antithetic images of the Sons of Horus, mummiform with indistinct heads. The bodies are made of mosaic work of similar bright blue discs. Three faces are made of yellow beads, one figure apparently has a pale green face.
Inventarisnummer
AMM 4-b
Afdeling
Egypte
Objectnaam
mummie; vrouw
Materiaal
mummie ; linnen ; faience
Afmetingen
Hoogte: 25 x Breedte: 38,5 x Diepte: 157,5 cm
Periode
Late Periode ; 25e-26e Dynastie; c. 700-650 v.Chr
Vindplaats
Egypte
Literatuur
Leemans, Description raisonnée (1840) M 66
Boeser, Catalogus (1907) E.XLIII.8
P.H.K. Gray, OMRO 47, nr. 20
M.J. Raven/W.K. Taconis, Egyptian mummies (Turnhout 2005), cat. 14
M.J. Raven, in: D. Magee/J. Bourriau/S. Quirke (red.), Studies Malek (Leuven 2009), 463-485, spec. 465 en photo 1
P. Piacentini/Chr. Orsenigo, Egitto. La straordinaria scoperta del Faraone Amenofi II (Milan 2017), p. 128.
---
---